Info | Page 1 | Page 2 | Page 3 | Page 4 | Page 5 | Page 6
Study 1 | Study 2 | Study 3 | Study 4 | Study 5 | Study 6
PDF files | Animated GIF files | Sound files | SGF files
---
(Page 4 of 6)

Japanese narration (RealAudio sound file)
---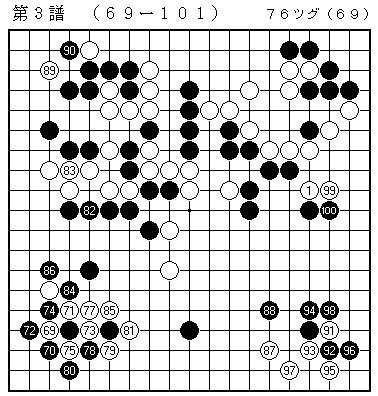 "Perfect!"
$BA0Ih$G!V%o%s%@%U%k!W$HK+$a$?;02&6eCJ$,!"K\Ih$G$O!V%Q!<%U%'%/%H!W$H(J$B@d;?$7$?!#Gr#6#9!"#7#1$N>oEelLL$G$7$?$M!W$HS9$C$?$[$I!#(J

Sanno 9-DAN who praised (Moore-san) "wonderful" in the previous diagram, now in this diagram expressed highest admiration with "perfect!". Up against typical moves of white-69 and -71, there were the perfect moves of black-72 to -86. There was a gasp (of Sanno) "this was a highlight of this match".

$B$H$/$K9u#7#2$N%"%F$,$9$P$i$7$$!#$3$N$K9u#7#3$d#7#7$b9M$($i$l$k$,!"Gr#7#3$N%"%FJV$7$r62$l$:9u#7#2$HH?H/$7!"#8#4!"#8#6$HCO$G4hD%$C$?$N$,Bg$-$$!#!V$3$l$@$140`z$KBG$?$l$F$O!"Gr@dK>E*$J7A@*$G$9!W$H!";02&6eCJ!#(J

Especially the ATE of black-72 was wonderful. If one had lost confidence and made the TSUKI of black-75, white-85 would come in and target black on the left hand side. Black-73 or -77 could have been considered. But without worrying about the revenge of white-73, countering black-72 was placed, and -84 and -86 toughed it out. "Up against such a perfect hand, white is in a hopeless situation," says Sanno 9-DAN.

$BGr#9#1$N%D%1$OLq2p$Je6y$N The TSUKE of white-91 is nasty. The wisest thing against this would be black-1 SAGARU, but the actual move was not so bad. Leftovers in the upper left corner are a bit unstable but this is Moore-san at his best in this mid stage.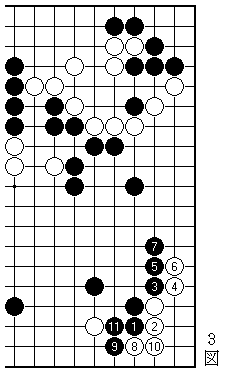 ---
Study this page, each sentence

Click here for the vocabulary list for this page
---
   email: mrkeys