Bilingual Go Game - 8 Stone Handicap
Info | Page 1 | Page 2 | Page 3 | Page 4 | Page 5 | Page 6
Study 1 | Study 2 | Study 3 | Study 4 | Study 5 | Study 6
PDF files | Animated GIF files | Sound files | SGF files
---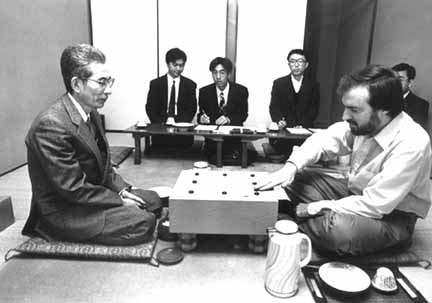 ---
In the fall of 1996, while working as a pianist in Tokyo, I had the good fortune of meeting Mr. Sanno, a 9-Dan professional Go player. This chance meeting eventually resulted in the wonderful opportunity to be involved in a Go match that became published in the March 1997 Igo Club magazine.
I decided to create a bilingual version of it. Many thanks to:
Mr. Hirotaka SANNO 9-DAN and the Nihon Kiin Igo Club magazine staff
Makoto KUBO for his English and his help with the furigana
Kiyoe IWAHASHI of Pittsburgh, for professional translation services
My Japanese teachers, especially Mihoko TERADA and her strong voice
Jan van der Steen's SGF2MISC - for the images in the animated GIFs
Simon Goss's GoFigs - for the publishable image diagrams
If the Japanese text is unreadable, try using SHODOUKA at http://www.shodouka.com
Or try the UK's embassy site at http://www.embjapan.org.uk/viewer.html

I created .pdf files of the Japanese text with furigana over all of the kanji: PDF Files only (Use a .pdf reader like Adobe Acrobat Reader)
NOTE: The "Study" pages have romaji (in case you can't display or read kanji)
Comments are welcome. This is a "work in progress", and I hope to make many more refinements soon. I am still working on the transliterations (in the "Study" pages) in order to explain all the grammar.

         To the first page




---
















---



 Back to my home page 





   email: mrkeys